What is derma filler?
Dermal filler Is hyaluronic acid
Hyaluronic acid is a natural part of the body. It binds water and gives skin volume, lubricates joints and shapes the eyes. With increasing age, the natural hyaluronic acid content of skin loses the capacity to store water. The skin loses moisture and volume, it becomes drier and thinner, and regenerates less efficiently. The loss of volume results in sagging skin.
Hyaluronic acid is a form of crystal clear gel, which is injected to restore lost volume back to your face, smoothing lines and wrinkles, modelling your profile or give your lips a fuller form.
The hyaluronic acid gel comes in different viscosity and particle size, so that with the most appropriate treatment for specific wrinkles can be utilised. Hyaluronic acid gives volume to your skin, your facial expression without altering your natural appearence.
Hyaluronic acid is injected in very small volumes with a very fine needle under the skin. The gel adds volume into the skin below wrinkles, plumping and smoothing. your practitioner will provide you pain ointment in the form of a topical anaesthetic cream allowing you to be as comfortable as possible for the treatment.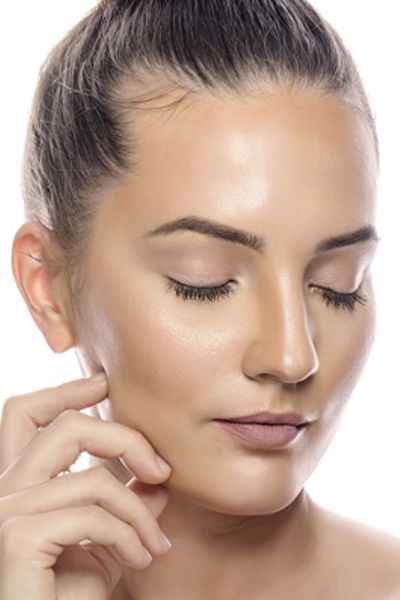 Which areas can be treated?
Dermal fillers can be applied in the following places:
Tear troughs
Naso-labial folds
Mouth corners
Marionette lines
Cheeks
Lips & vermillion border
Chin augmentation
Smoker's lines
Nose Reshaping
Hands
Jawline
These are the lines under your eyes that make your eyes look tired. A loss of volume in the area, a loss of tissue elasticity or a mild reduction in bone density could all be causes of concern. By using an advanced technique, dermal fillers can be placed in either the tear trough itself, slightly lower in the cheek area, or indeed a combination of both to achieve brighter, more rejuvenated eyes.

Commonly known as the smile or laughter lines, these are the two skin folds that run from each side of the nose to the corners of the mouth. If you are bothered by your nasolabial folds, and wonder what to do to improve the area then filler is perfect to fill out these folds, and partnered with cheek filler the face will appear much younger looking.

Sometimes the corners of your mouth can droop leaving you looking unhappy. Dermal filler can be placed below the corners of the mouth with a small amount directly into the corners of the lips.

Marionette lines run between the corners of the lips down towards the chin and jaw giving a puppet-like effect. As we age, our facial bones become smaller resulting in lines like these appearing. Dermal filler is great for filling in these lines making them less prominent.

As you age you lose an amount of subcutaneous fat which can result in a loss of volume and elasticity to the face. This in turn highlights hollow cheek bones, and the presence of excess skin resulting in sunken cheeks. This can cause someone to appear gaunt and tired-looking.
Dermal fillers can be injected into this area to plump out the face with natural volume and a gentle lift. This is an advanced technique and is offered at one of our specialist training days.

Probably the most well-known use of filler. The lips can be injected with dermal filler either in the body of the lip to boost fullness or the border of the lips to increase definition. This treatment is ideal for correcting thin lips but can also help solve problems with a downward smile and the need to lengthen the mouth.

A perfect alternative to a surgical chin implant, is a non-surgical chin augmentation which is achieved with dermal fillers.

These are the vertical lines above the lip that appear when you pout. They are mostly caused by regular lip movements but are also called smokers lines, because regular smoking means pressing the lips together. If your lines are deep enough then they can be drastically reduced with a small amount of injectable filler to achieve a smoother appearance.

Non-surgical rhinoplasty is manipulation of the soft tissue of the nose using dermal filler injections. The dermal filler used for this procedure is FDA approved and very safe.
Re- shaping of the nose is an extremely effective procedure for improving minor defects, and it can also give volume to ethnic nose types.
This technique is an ideal substitute to the traditional surgical nose job and it offers faster yet very impressive results for the improvement in overall appearance with little or almost no downtime.

How can Dermal Filler improve my nose?
• Refining the nose shape or size after surgical Rhinoplasty.
• Improving the nose folds.
• Improve overall nose definition.
• Correcting a bump or 'hook' on the nasal bridge.
• It can correct an off-centre or crooked nose.
• Provide balance in the size of the nose so that it looks more proportionate with other facial features.
• It can re-balance asymmetry in the nose.

Hands are a new use for fillers, patients have found that the use of the fillers in their face is great for concealing their real age, but then it is often their hands that give it away. Ageing hands lose volume and the skin appears thinner. Having filler injected into the skin on the back of the hands can make them appear plumper and less veiny.

Dermal filler to the jawline can help redefine and contour a sagging or lax jawline by restoring volume. In men, dermal filler can also be used to create a more masculine jawline.
Dermal filler can help to enhance, contour and define a weak or receding jawline. It can also be used to help correct any asymmetry in the jawline you may have. This can be due to genetic factors or can be due to the ageing process as structural support in the jawline is lost.
How does the treatment work?

Dermal fillers are a cosmetic injectable treatment which works to plump and fill out lines and hollows, rejuvenating the face and creating a fresher, more youthful appearance.
We can use fillers to treat lines and wrinkles, loss of volume, sagging jawline and eye bags.

They can also improve the quality of the skin.

When will I start seeing results?

Results are immediate, although the best results will be seen 5-7 days after treatment.

How long does treatment take?

Usually takes 30 minutes, possibly a little longer, depending on the degree of correction you want. When receiving a pain-relieving ointment expect to add about 20 minutes for full effect. So allow an hour.

What are the possible side effects?

Side effects are relatively rare. In general, this treatment could lead to injection-related effects such as swelling, redness, pain, itching, discolouration and tenderness at the injection site. These reactions only last a few days. After an injection into the lips, this takes up to one week. For more details, ask your doctor.
Pre-Treatment instructions
You will first undergo a full consultation with a practitioner to ensure you are an ideal candidate for treatment.
Post-Treatment instructions
Avoid massaging or rubbing treated areas during the first 48 hours after your treatment. During the first 8 hours after treatment, you should not touch the treated areas of the face unnecessarily. Later, you can wash your face with soap and apply light make-up. Until the initial redness and swelling of the skin has diminished, avoid contact with extreme heat (eg solarium and sunbathing) or extreme cold. Cold sores (herpes, for example), can thrive again after a treatment.
Blood thinning drugs taken such as aspirin, may cause the injection site to bleed longer and/or form small bruises.